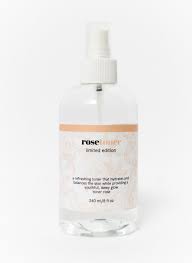 Truly Lifestyle Brand-Rose Toner
Regular price $35.00 $21.00 Sale
Your face will thank you! In addition to soothing dry skin, our Rose Toner is great for combination or oily skin thanks to its hydrating and astringent properties. These properties work to tone the skin, gently lift dirt and oil and maintain the skin's natural pH balance. This is also an incredible anti-aging product that provides a youthful, dewy glow.
Directions
After cleansing, spray on a cotton pad and wipe over face OR spray directly on face. Follow by applying serum(s) and moisturizer.
Discontinue use if irritation occurs. Keep out of reach of children. 
Ingredients
Distilled Water, Rosa Damascena Flower Water (rose floral water), Hamamelis virginiana (witch hazel)