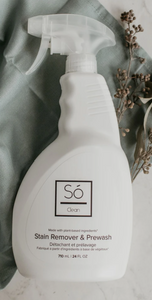 So Luxury - Stain Remover and Prewash
Regular price $14.00 Sale
Só Clean - Stain Remover & Prewash uses powerful plant-based enzymes to safely remove stains from your clothing and fabrics.  For use on all stains including grass, blood, wine, sauces, cooking oil, grease, baby food and more!

Every product in the Só Clean line is made in Canada with plant-based ingredients that are safe to use for you, your loved ones and Mother Earth too.
How to Use
Directions: Follow garment care instructions on tag.  Cover stain with Stain Remover.  Rub product in to penetrate stain.  Let stand for 1 - 5 minutes depending on severity of stain.  Launder with Só Clean Powdered Laundry Soda at the warmest water temperature your fabric will allow.
Washing Tip: Treat stains while fresh.  When treating set-in or greasy stains, treat as above and let sit overnight before washing (but do not allow Stain Remover to dry on garment).  May be added to wash load as a laundry aid.  Add 30 - 60 ml in bleach dispenser (for front loading machines) or directly to wash loads (for top loading machines).

Do not use on silk, khaki, wool, fluorescent clothing, any fabric/surface that can be damaged by water or any fabrics labelled dry clean only.